About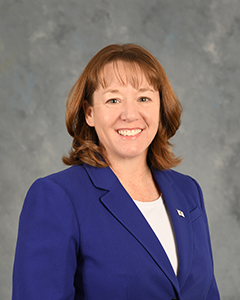 Amy Elik was first elected to the Illinois House in November 2020, and then re-elected two years later. Elik represents the 111th District, which is located in Madison County. Elik, a lifelong resident of Madison County, has worked for 28 years as a Certified Public Accountant and auditor for area businesses and governmental bodies.
Rep. Elik has served her local community in a number of ways, including as a Foster Township Trustee and as a board member for St. Mary's Catholic School. She has also been a member of the local Rotary Club and co-leader of the Fosterburg AG 4H Club. Elik served as a volunteer teacher with SCORE, the nation's largest network of volunteer business mentors. She taught financial projection classes and consulted with entrepreneurs to start businesses.
Rep. Elik was named the Associated Builders and Contractors Illinois Chapter Legislator of the Year Award at their 2023 Annual Member Awards and Apprenticeship Graduation event, and received the 2021-2022 Outstanding Freshman of the Year Award from the Illinois Chamber of Commerce.
In the Illinois House, Rep. Elik sees firsthand how policies coming out of Springfield can hinder economic growth because of laws enacted by politicians disconnected from the struggles of Main Street Illinoisans. Elik's accounting experience has proven valuable to members of the General Assembly as she was appointed as Deputy Budgeteer for the House Republicans' budget team for the 103rd General Assembly.