Elik Receives House Freshman 'Legislator of the Year' from ABC Illinois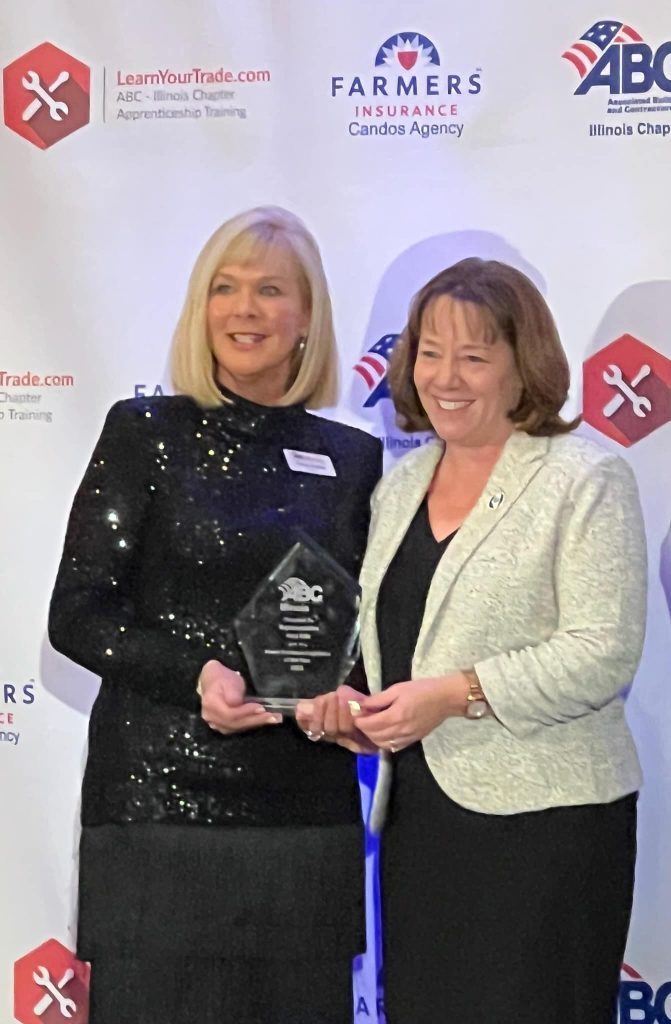 I was recently named 'Legislator of the Year' by the Associated Builders & Contractors, Illinois Chapter at their 2023 Annual Member Awards & Apprenticeship Graduation event in Elk Grove Village.
The construction industry helps grow our economy and creates jobs. When we go to work, shop, or go out to eat – the construction industry built the infrastructure. I appreciate the recognition and will continue to support our workforce and training programs to help the individuals and small businesses that work to build and grow our economy.
I received the 2022 House Freshman 'Legislator of the Year' award from the Associated Builders & Contractors, Illinois Chapter for my positive voting record and commitment to free enterprise in Illinois.
Associated Builders and Contractors is a national construction industry trade association representing more than 22,000 members. Founded on the merit shop philosophy, ABC and its 68 Chapters help members develop people, win work and deliver that work safely, ethically and profitably for the betterment of the communities in which ABC and its members work. ABC's membership represents all specialties within the U.S. construction industry and is comprised primarily of firms that perform work in the industrial and commercial sectors.
Illinois' credit rating upgraded from worst to tied for worst
Illinois' credit rating got upgraded from worst in the country to tying with New Jersey for the worst.
For a seventh time in two years, Illinois' credit rating was increased Thursday with the announcement from S&P Global ratings.
"The upgrade on the [general obligation] debt reflects our view that Illinois' commitment and execution to strengthen its budgetary flexibility and stability, supported by accelerating repayment of its liabilities, rebuilding its budget stabilization fund to decade highs; and a slowing of statutory pension funding growth, will likely continue during the outlook period," S&P Global Ratings credit analyst Geoff Buswick said.
Republicans demand hearings on Choate Mental Health and Developmental Center, propose a plan to make improvements.
House and Senate Republican legislators held a Capitol news conference last Thursday to call for immediate joint House and Senate hearings to investigate disturbing reports of abuse and neglect of the residents of Choate Mental Health and Developmental Center.
The press conference was held after all members of the Illinois House, including myself and Senate Republican caucuses signed on to a letter that was sent to the Chairpersons of the Committees charged with oversight of the Illinois Department of Human Services requesting the hearings and following news reports that have quoted Governor Pritzker threatening to close down the facility if changes and improvements aren't made.
I support the call for public hearings to discuss the serious concerns regarding disturbing reports of neglect and abuse of the residents at Choate Mental Health and Developmental Center located in southern Illinois. In addition to our request for public hearings, my colleague Rep. Meier discussed a plan called 'Help Protect Us and Improve Our Home' which offered eleven changes needed to make improvements at Choate.
The plan includes:
Install cameras in common areas
Implement ongoing staff training
A mass hiring of qualified staff to help
Track staff incidents by location and trends
Increase administrative and security inspections
Improve overall accountability of staff performance
Remind employees if they see something is wrong, report it
Increase the amount of active treatment and activities for residents
Encourage and welcome parents/guardians visiting their loved ones
Assign an interim director or assistant director to Choate Developmental Center
Reevaluate the Office of Inspector General reporting system as it currently operates
Gov. Pritzker elevates the status of Illinois' chief anti-terrorism agency
The Illinois Emergency Management Agency (IEMA) will now be known as the Illinois Emergency Management Agency and Office of Homeland Security. The reorganization means that the fight against terrorism in Illinois will now be headed by a person who will be a Deputy Director, a senior law enforcement official. The Homeland Security Advisor will coordinate with cabinet-level public safety agencies throughout Illinois on terrorism-related strategic issues, including cybercrime and electronic sabotage. The change also elevates the current Illinois Terrorism task Force to the level of a permanent board of advisors, the Illinois Homeland Security Advisory Council. The change will better situate IEMA to apply for and pass through federal grants to local law enforcement and the private sector aimed at the reduction and prevention of terrorism and sabotage.
The state government reorganization move was filed on Tuesday, February 21, as Executive Order 2023-03. The Illinois Constitution grants broad powers to the Governor to reconfigure State government agencies. The reconfigurations have to maintain the sets of State government responsibilities previously created by the General Assembly through State law. In this case, the General Assembly has already asked IEMA to fight against terrorism and sabotage, and this executive order continues this General Assembly policy.
House Back in Session Today, Feb. 28
The Illinois House of Representatives is back in session today. You may listen or watch live at Noon here.
Need Assistance with State Government?
If you have an issue or need help navigating state government. My office is here to help you. If my office may be of assistance please contact my district office in Alton at 618-433-8046.